Growth Strategies at Spotify. Marketing and branding. Create your own podcast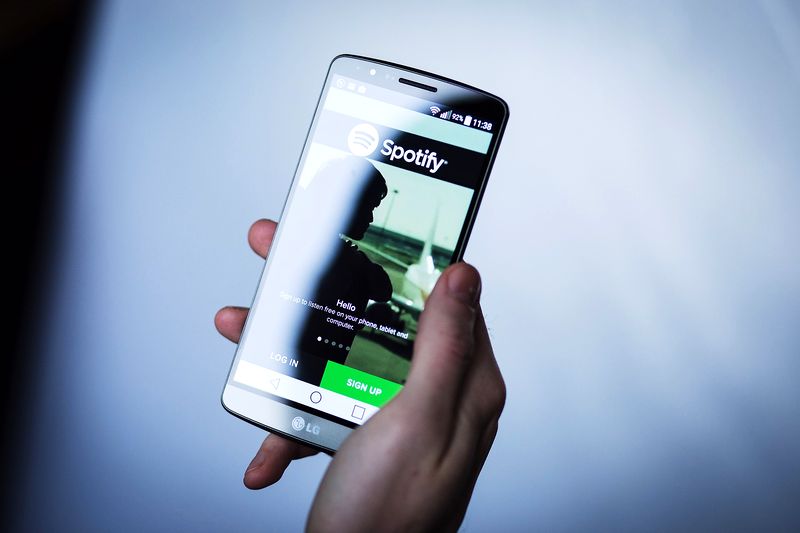 As of today, the podcasting market is estimated to be worth about $10 billion. The growth rate is gigantic, reaching 28 percent a year. To date, there are a couple million active podcasts and nearly 50 million episodes. The field of podcasting is constantly growing along with the capabilities of smartphones and the increasing availability of smartphones around the world.
Spotify often boasts that the growth in podcasts is because Spotify itself has seen a significant increase in subscribers and with that, they've been able to increase their ad revenue as well. This is what has made Spotify work with not only talented musicians, but also other content of the conversational genre. Competition with Amazon Music and Apple Music simply forced Spotify to find another, broader market.
Joe Rogan, creator of the most successful and recognizable podcast in the world, has signed an exclusive contract with Spotify worth $100 million. He didn't appear on the platform until mid-2020, but he's already the unqualified number one. Of course, such rare deals are incredibly rare, but the very fact of this deal and such a gigantic amount allows us to draw certain conclusions. We understand that the company has changed its strategy to grow in other directions.
In 2020, Spotify acquired Megaphone, which specializes in podcast hosting, monetization technology, and analytics. Thanks to this company, ads can now be more targeted to specific users. This does not work on all platforms. Content creators will now have the ability to properly monetize their podcasts and reach almost all advertising markets.
How is Spotify helping podcasts grow?
The company's strategy for podcasts has been to increase the number of users and to increase the value per listener:
1. audiences are better engaged, and the company has opportunities to target ads.
2. The company doesn't have to pay a portion of the revenue to any music labels, which is what allows the money to be spent efficiently, and to diversify revenue.
Major deals (such as the Joe Rogan deal) allow it to attract people from other platforms. This is very important in an environment of ever-increasing competition. The company is also trying to improve budget efficiency. The existing recommendation system works great not only with music, but also with podcasts. And it allows it to compete with giants like Apple, Google, and Amazon.
Benefits of the strategy
There are plenty of articles online that talk about how to start your own podcast. Almost anyone can do it. But you'd be correct in saying that not everyone will succeed. Let's take a look at Joe Rogan. He always talked about how podcasting was just a hobby for him. That said, we all understand how much work went into getting him to where he is today. He was always inviting interesting or famous people, and he had the ability to create quality content that people were willing to come back for again and again. He developed without any paid marketing at all, and it was a smooth growth. If someone is able to attract an audience with their own style and unique content, then that person will also be able to win a part of the audience.
Right now, about 82 million people in the United States say they listen to podcasts every week. Just think, there are more listeners than Netflix users. That means people are increasingly switching from video to audio content. And those who listen to podcasts are willing to listen to up to eight shows a week. Acast has an average listening time of almost half an hour - such engagement is something to be jealous of.
Successful videos don't have to be long. There are interesting podcasts or videos that last only a few minutes. For example, there are companies that talk about how you can use their product and how it will help you. Companies attract more people this way and connect the audience with the products. A very effective method of advertising and developing your brand.
Let's take a look at Spotify to see what we should focus on:
1. they find more and more listeners by showing that podcast guests and hosts are experts in their fields. They discuss meaningful and relevant topics. Joe Rogan is the presenter in this case.
2. The podcast helps develop other media resources. Spotify attracts music streamers through special deals with them.

3. the brand develops through guests who enhance the image of the host. Also, the host can come to other podcasts.

4. The listener turns into a customer. The podcast can serve as a great opportunity to promote your brand or product.

5. Podcasts can be used as a handy communication tool in a company environment. The boss can upload a podcast to the cloud so that employees can listen about company business when they need to. This will help increase the company's responsiveness and also increase the efficiency of the entire team through better cohesion.

Audio podcasts are quite easy to learn because you can listen to them at any time - doing your daily routine. The podcast will be available almost as soon as it is recorded and you will have the opportunity to promote your content to a giant audience of users who can immediately become your customers if you create an interesting and unique message.
Why Businesses Need Podcasting
Podcasts continue to grow and the number of two million may still surprise us when we compare it to the number of blogs worldwide (600-700 million). This means that there may still be areas in which you can find yourself and how you can grow your own business in podcasting. It's an interesting strategy for business growth, especially if you have your own narrowly focused industry. Google's research shows that a user needs about 7 hours of content research before they think about buying anything. If you have interesting content, it will seriously help you grow your own business.
It's time to recognize that podcasts aren't going anywhere - and they're a great resource for growing your own business.
Was this article helpful?
88
Posted by:
👨 Mildred M. Hoyle